Naples Security Solutions provides professional and effective Executive Protection. Individuals such as executives, government officials, celebrities regularly seek our specialized protective services. In today's world so many people and their families are potential targets. Hostile activities can affect business, reputation, personal safety and welfare.
We recognizes that everyday activities in commonly considered safe locations are not always risk-free. Threats to a persons safety can be planned beforehand or acted on based on opportunity. Many incidents that affect safety happen everyday. Whether you are traveling to unstable environments or are having issues with disgruntled employees, Naples Security Solutions has the experience to provide reliable protection.
The Executive Protection Advantage
At Naples Security Solutions, we meet challenges by providing clients with a wide range of services. Our extensive experience in professional executive security allows us to provide our clients with endless benefits. We work with all clients to coordinate and develop comprehensive solutions for every day and special event security.
The Best Executive Protection and Personal Security is Based on These Key Elements: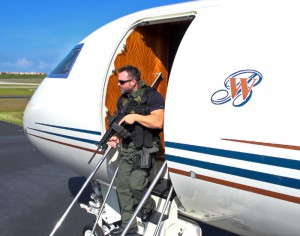 • Advanced Preparation:
We will provide client risk assessments to determine threats and vulnerabilities. We will gather necessary foresight into the setting of each individual clients needs.
• Strategic Planning
We will consider all possible security threats and coordinate operations. People are only as secure as the plan in place to protect them. We take prior planning seriously so that we are ready for all types of threats.
• Timely Information
Staying on top of developing information is an important aspect of executive protection. Whether prior to or during an event, Naples Security Solutions takes pride in being aware and conscious of developing information.
• Highly Trained and Experienced Professionals
The security professionals at Naples Security Solutions have the specialized knowledge it takes to take proper action without hesitation in any situation. Close personal protection from our security agents guarantees discreet and professional service.
• Coordination and Communication with Local Authorities
Liaison with law enforcement, event venues, hotels and other necessary establishments is an important aspect of our clients security. Having open communication gives us a broad reach when managing activities and events.